The level of service we received, along with the knowledge and craftsmanship of the employees who worked on our home was stellar and meticulous. The scope of work required a large amount of construction ahead of the restoration and all was sequenced and completed in seamless fashion. Moreover, the quality and care put into each and every task was remarkable. The end result of our log home was a transformation that we never thought possible and all at a price that was extremely competitive.
Without hesitation, we recommend Log Home Artisan, Inc. to anyone having need of their services. Not only was our project a complete success, but we will continue our relationship by using them annually to inspect and conduct routine maintenance on our home.
We are so very pleased with the service and quality of workmanship we received from you and your crew. Rudy and I really appreciate the beautiful job of cleaning, sanding, caulking and staining on our log home. The logs were restored to their original condition and the results of your work look more professional than the initial staining. We liked the fact that you kept the work area neat and clean.
Everyone worked hard and the work was completed in a very timely manner. We were pleasantly surprised at the high quality of work in regards to the competitive cost. Thank you for a great job!

Dear Sean,

The purpose of this letter is to tell you and your potential customers about the superb sealing job you and your crew did on our cabin in Blue Ridge Passage Resort, Meadows of Dan, VA. You all went above and beyond what was required and were able to find leaks where others were unsuccessful.

Again, we were well pleased with the job you did and we highly recommend you to anyone looking for log home restoration or sealing.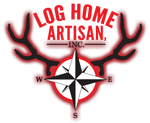 Recently, Sean Whitson and his crew (Log Home Artisan, Inc. of Fincastle, Va.) restored our log home. They were some of the most professional and pleasant people you could ask for and produced excellent results. Our place looks better than we had hoped.  They started the job when promised, worked very diligently and finished in a timely manner. The job quote was very reasonable.
It gives Pete and I great pleasure to recommend Log Home Artisan, Inc. for your restoration needs.
Log Home Artisan, Inc. of Fincastle, VA did an extraordinary job of refinishing our log home.
The entire process from quote to completion was professional, and the results are fantastic. Sean and his crew, showed up as scheduled and worked 6 days per week until the job was completed.
John & I agree the house looks just as good as it did when it was built 7 years ago. We would gladly recommend Log Home Artisan, Inc. for any job they might quote. We believe you will be as happy as we are with their work.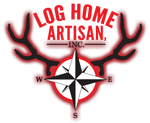 I would like to tell you how pleased I was with the project to treat, repair and stain the outside of my log cabin! The men doing the work were very professional. The results are beautiful!